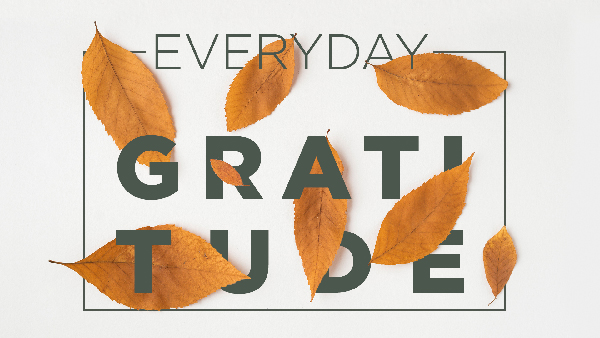 Everyday Gratitude - Week 1
Getting Started:
What was the highlight of your Thanksgiving weekend?
Digging In:
Read Luke 17:11-19
Thanksgiving is often forgotten as we anticipate the Christmas season. Do you think we tend to overlook being thankful? Why is this so?


Although they had much to be thankful for, why do you think nine of the lepers did not come back to thank Jesus?


What is the harm in living without gratitude? How do you think it affects our relationship with God? How do you think it affects our relationship with others?


Vs. 19. The Samaritan leper was the only one who returned to thank Jesus and the only one to whom Jesus said, "your faith has made you well." How does gratitude make our healing complete? What is missing when we focus only on the gifts we have received instead of the Giver?


What are some ways that we can demonstrate a grateful heart?


When telling the story of how we have been cleansed of our "leprosy," how can we ensure that we include the WHO instead of just the WHAT?


BLESS question: Jesus showed us a great example of how to reach out to others that society has deemed "untouchable." Is there anyone in your life who is calling out for healing (physical, spiritual, emotional)? How can you reach out to them with the love of Jesus?